20 Romantic Valentine's Day Ideas for Him/Her
Valentine's Day is the perfect opportunity to show your partner how much you care. If you're looking for romantic ideas to make this day extra special, we've got you covered! In this article, we will share 20 romantic Valentine's Day ideas for him/her that are sure to ignite the sparks and create lasting memories. From thoughtful gestures to unique experiences, these ideas will help you celebrate love in a truly unforgettable way. Whether it's surprising your significant other with breakfast in bed or planning a cozy candlelit dinner at home, there are plenty of heartfelt options to choose from. So get ready to sweep your loved one off their feet with these 20 romantic Valentine's Day ideas!
Romantic Dinner Ideas
Here are some romantic dinner ideas to make your Valentine's Day extra special:
Candlelit Picnic: Set up a cozy picnic in your backyard or a scenic spot and light candles for an intimate atmosphere.
Cook Together: Plan and prepare a meal together, creating memories while enjoying each other's company.
Indoor Picnic: Create an indoor picnic with soft blankets, pillows, and fairy lights for a cozy setting.
Surprise Dinner Date: Arrange a surprise dinner date at home by cooking their favorite meal or ordering from their preferred restaurant.
Themed Dinner Night: Choose a theme like Italian, Mexican, or French cuisine, decorate accordingly, and cook dishes that fit the theme.
Breakfast in Bed: Start the day with a romantic breakfast in bed featuring heart-shaped pancakes or pastries.
Dine Under the Stars: Set up a table on your balcony or rooftop terrace and enjoy dinner under the stars.
Private Chef Experience: Hire a private chef who can come to your home and create an exquisite dining experience just for you two.
Wine Tasting Dinner: Select different wines to pair with each course of your homemade dinner for an interactive wine tasting experience.
| 10 | Fondue Night: Prepare fondue pots filled with cheese, chocolate, or broth accompanied by various dippables like bread cubes, fruits, vegetables |
| --- | --- |
11.Beachside Dinner: If weather permits, plan a beachside candlelight dinner as you listen to the sound of crashing waves.
12.Food Delivery Surprise: Order food delivery from their favorite restaurant without them knowing it's coming – it'll be both unexpected and delightful!
13.DIY Sushi Night: Roll up your sleeves together and try making sushi at home – it's not only a fun activity but also a delicious dinner option.
14.Dinner with Live Music: Find a local restaurant that offers live music and book a table for an enchanting evening filled with good food and beautiful melodies.
15.Restaurant Hop: Plan a progressive dinner by going to different restaurants for each course – appetizers, main course, dessert – exploring new flavors along the way.
16.Cooking Class Date Night: Sign up for a virtual cooking class together and learn how to prepare a gourmet meal from the comfort of your own kitchen.
17.Surprise Getaway Dinner: Book an overnight stay at a nearby bed and breakfast or hotel, where you can enjoy a romantic candlelit dinner in an unfamiliar setting.
18.Rooftop Dining: If you have access to an elevated space like a rooftop terrace or balcony, transform it into your private dining area with stunning views as your backdrop.
19. Movie Night Dinner: Create your very own movie night at home complete with popcorn, cozy blankets, and their favorite films while enjoying homemade meals or takeout treats.
20.\ Virtual Dinner Date: For those in long-distance relationships or unable to be together physically on Valentine's Day due to circumstances, plan a virtual dinner date via video call. Set the mood with candles and dress up for the occasion!
These romantic dinner ideas are sure to make this Valentine's Day unforgettable! Enjoy sharing love through delightful dishes and quality time spent together.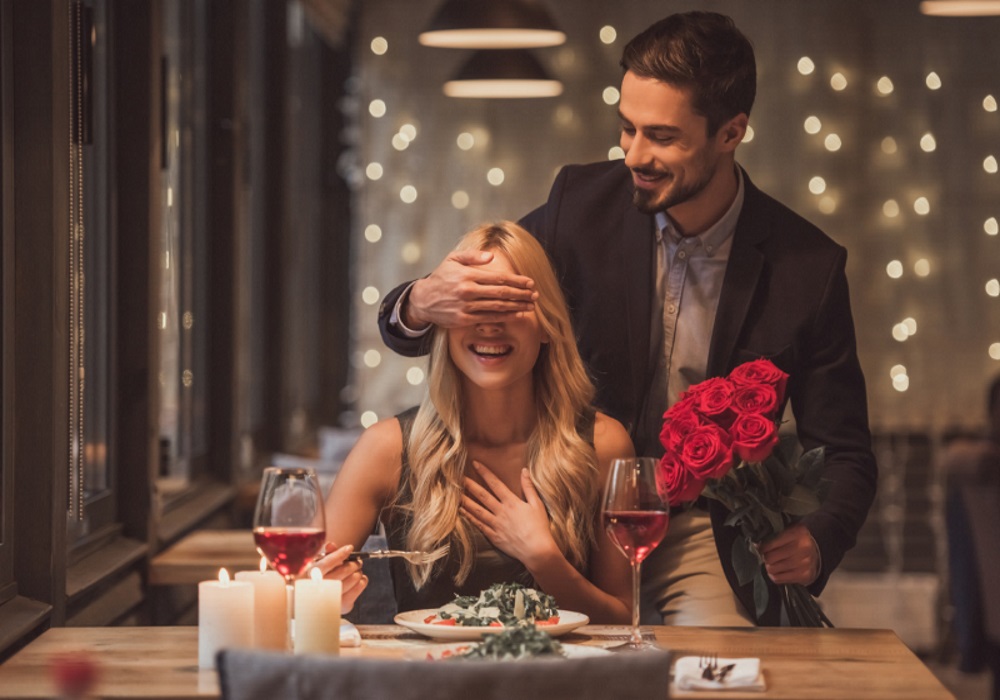 Gift Ideas for Him/Her
When it comes to expressing your love and affection on Valentine's Day, a thoughtful gift can make all the difference. Here are some amazing gift ideas that will surely impress your partner:
For Him:
Personalized Wallet: Engrave his initials or a special message on a high-quality leather wallet.
Grooming Kit: Help him look his best with a grooming kit that includes shaving essentials and skincare products.
Tech Gadgets: Surprise him with the latest tech gadget he's been eyeing, like wireless earphones or a smartwatch.
Sports Memorabilia: If he's a sports enthusiast, consider getting him memorabilia from his favorite team or athlete.
Whiskey Set: Elevate his whiskey-drinking experience with an elegant set of glasses and whiskey stones.
For Her:
Jewelry: A timeless piece of jewelry such as a necklace, bracelet, or earrings will always be cherished.
Spa Day: Treat her to a luxurious spa day where she can relax and rejuvenate herself.
Scented Candles: Fill her space with beautiful scents by gifting her high-quality scented candles in her favorite fragrances.
Handbag: Surprise her with a stylish handbag that complements her personal style.
Subscription Box: Sign her up for a monthly subscription box tailored to her interests like beauty, books, or gourmet snacks.
Remember, the most important aspect of choosing the perfect gift is considering your partner's preferences and interests. Show them how well you know them by selecting something meaningful that reflects their personality.
Whether it's something personalized or an experience they've been longing for, these gift ideas are sure to make this Valentine's Day unforgettable for both of you!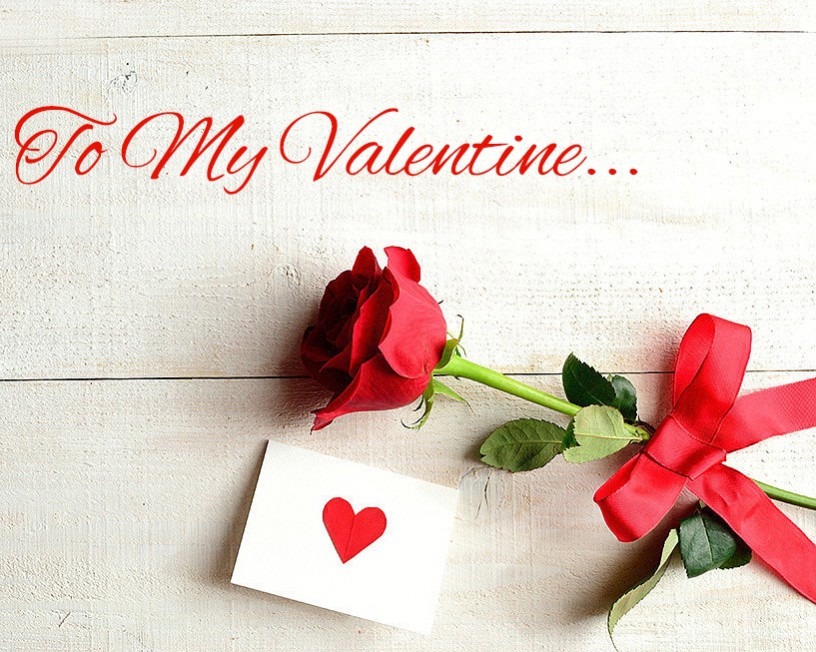 DIY Romantic Surprises
Looking to add a personal touch to your Valentine's Day celebrations? Try these DIY romantic surprises that are sure to impress your partner:
Love Notes Jar: Fill a jar with small notes expressing your love and appreciation for your partner. They can pick one each day leading up to Valentine's Day.

Breakfast in Bed: Surprise your loved one with their favorite breakfast served in bed. Add some fresh flowers and a handwritten note for an extra special touch.

Candlelit Dinner at Home: Create a romantic ambiance by setting up a candlelit dinner at home. Cook their favorite meal or order takeout from their preferred restaurant.

DIY Love Coupons: Make personalized love coupons offering things like massages, date nights, or even chores they can redeem throughout the year.

Scavenger Hunt: Plan a fun scavenger hunt around the house with clues leading to little surprises along the way—a perfect way to keep the excitement going all day long!

Memory Book: Collect photos and mementos of special moments you've shared together and create a heartfelt memory book as a keepsake.

Romantic Movie Night: Set up an outdoor movie night under the stars or have an indoor cozy movie marathon featuring your favorite romantic films.

Homemade Chocolates: Get creative in the kitchen and make delicious homemade chocolates customized with different fillings or flavors.

Love Letter Wall Art: Write a heartfelt letter expressing your love, then frame it as wall art for them to hang and cherish forever.
10.Personalized Playlist: Curate a playlist of songs that hold special meaning for both of you—perfect for reminiscing about memorable moments together.
These DIY romantic surprises will help you create lasting memories on Valentine's Day without breaking the bank! Enjoy celebrating love in unique ways tailored specifically for him/her.
Unique Date Night Ideas
When it comes to planning a special and unique date night for Valentine's Day, thinking outside the box can make all the difference. Here are some creative ideas that will help you create lasting memories with your partner:
Cooking Class: Sign up for a couples' cooking class where you can learn how to prepare a delicious meal together. Not only will you bond over shared culinary experiences, but you'll also get to enjoy the fruits of your labor.

Scavenger Hunt: Plan an exciting scavenger hunt around your city or even inside your home. Leave clues leading to meaningful locations or surprises that hold sentimental value for both of you.

Outdoor Movie Night: Set up a cozy outdoor movie screening in your backyard or at a nearby park. Bring blankets, pillows, and snacks while enjoying each other's company under the starry sky.

Wine Tasting Adventure: Visit local wineries and indulge in wine tastings together. Explore different flavors and varieties as you deepen your appreciation for fine wines.

Art Workshop: Unleash your creativity by attending an art workshop where you can paint, sculpt, or craft something special together as a couple.

Escape Room Experience: Challenge yourselves with an escape room adventure filled with puzzles and riddles that require teamwork and problem-solving skills to solve within a time limit.

Stargazing Picnic: Pack a picnic basket with tasty treats and head out to an open field away from city lights for some romantic stargazing moments together.
8 .Couples' Massage: Treat yourselves to a relaxing couples' massage session at a spa or even in the comfort of your own home using aromatic oils and soothing music.
9 .Volunteer Together: Spend quality time making positive changes in your community by volunteering together at local charities or organizations close to both of your hearts.
DIY Project: Take on a DIY project together, whether it's refurbishing furniture, building something from scratch, or creating personalized gifts for each other.
Remember, the key to a successful and memorable date night is to choose an activity that resonates with both you and your partner. Be open to trying new things and let the sparks fly!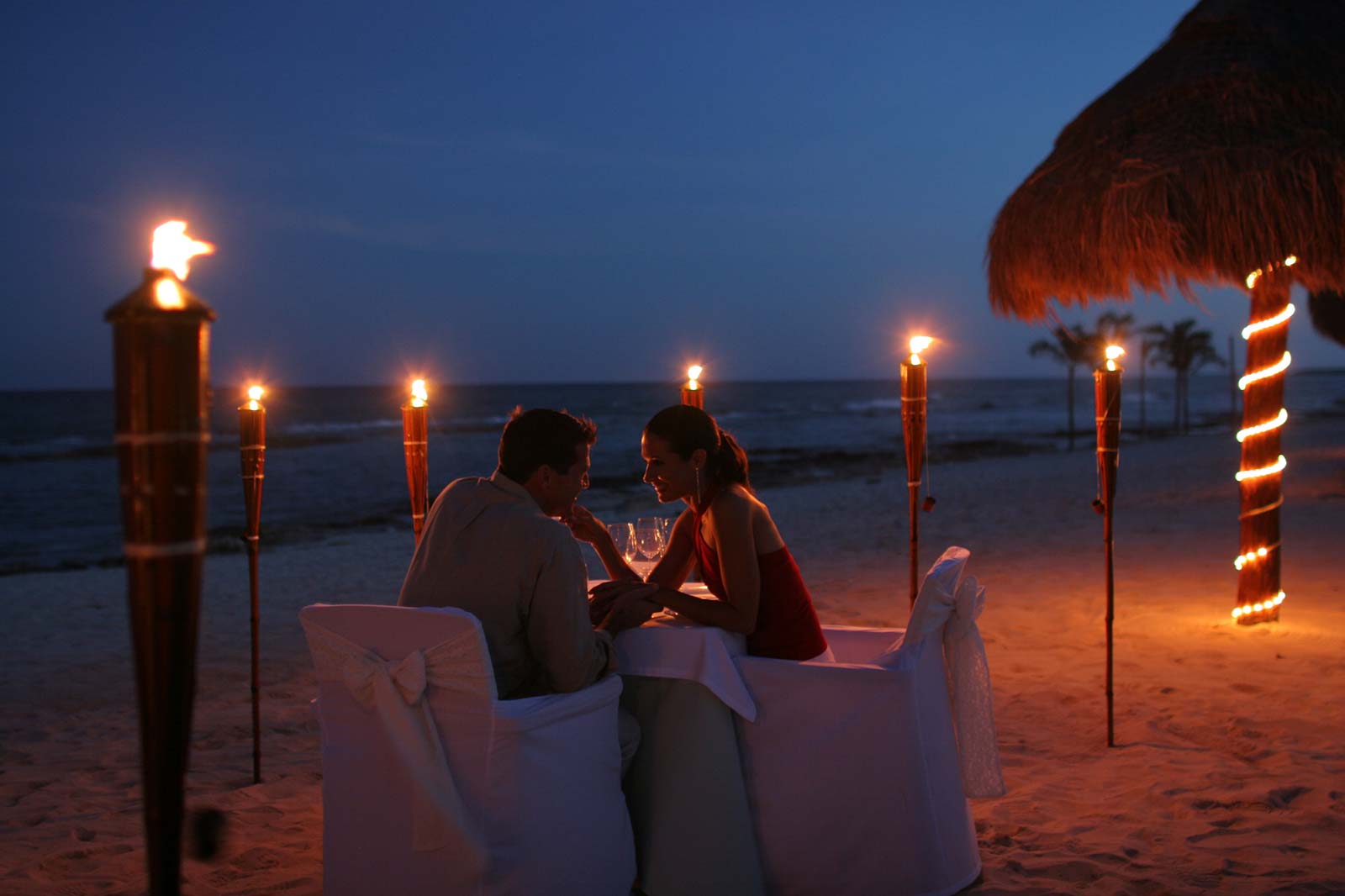 Adventurous Getaways
Looking to add a touch of adventure to your Valentine's Day celebration? Consider planning an adventurous getaway with your loved one. Here are some exciting ideas for an unforgettable experience:
Hiking and Camping: Escape the city and reconnect with nature by going on a romantic hiking and camping trip. Explore picturesque trails, set up camp under the stars, and enjoy quality time together surrounded by breathtaking landscapes.

Whitewater Rafting: For thrill-seeking couples, whitewater rafting is an exhilarating option. Navigate through raging rapids as you work together to conquer challenging waterways. It's a perfect activity for those who love adrenaline-pumping adventures.

Hot Air Balloon Ride: Soar above stunning landscapes while enjoying panoramic views during a hot air balloon ride. Experience the magic of floating in the sky with your partner as you create lasting memories from high above.

Zip-lining: Add excitement to your Valentine's Day by zip-lining through lush forests or over scenic canyons. Feel the rush of adrenaline as you glide through the air hand-in-hand, taking in breathtaking views along the way.

Snowboarding/Skiing Trip: If you both enjoy winter sports, plan a snowy getaway at a ski resort or mountain cabin retreat. Hit the slopes together, challenge each other to friendly competitions, and cozy up by the fire afterward.

Scuba Diving Adventure: Dive into underwater wonders with your significant other during a scuba diving expedition! Discover vibrant coral reefs, swim alongside exotic marine life, and share awe-inspiring moments beneath the waves.

Rock Climbing Excursion: Embark on an adventurous rock climbing experience that will test both physical strength and trust between partners. Conquer cliffs together while enjoying breathtaking vistas from atop rocky summits.
8 .Safari Journey: For wildlife enthusiasts seeking a unique Valentine's Day experience, consider a safari adventure. Explore the beauty of nature and witness magnificent animals in their natural habitat while creating unforgettable memories together.
Remember to tailor your adventurous getaway to suit both you and your partner's preferences and comfort levels. Whether it's an adrenaline-fueled activity or a serene outdoor retreat, these ideas are sure to make this Valentine's Day one for the books!
Thoughtful Love Notes and Letters
Expressing your love through handwritten notes and letters is a timeless gesture that never fails to make hearts flutter. Here are some ideas to help you create thoughtful love notes for your special someone:
Love Letter in a Bottle: Write a heartfelt letter, roll it up, and place it inside a decorative bottle. Seal the bottle with a cork or cap, adding an extra touch of romance.

52 Reasons Why I Love You: Get creative with small note cards or sticky notes. Write down one reason why you love your partner on each card and present them in a jar or box.

Open When Letters: Prepare envelopes labeled "Open when…". Fill them with personalized messages for different occasions like "Open when you're feeling down" or "Open when you need motivation."

Post-it Surprise: Stick colorful post-it notes with sweet messages all over their favorite places – bathroom mirror, car dashboard, laptop screen – surprising them throughout the day.

Scavenger Hunt Love Note: Create an exciting treasure hunt by leaving clues leading to various locations where romantic messages await their discovery.

Lunchbox Love Notes: Slip little love notes into their lunchbox or bag so they find surprise declarations of affection while at work or school.

Love Coupon Booklet: Design cute coupons offering gestures like breakfast in bed, date night of their choice, or even massage sessions redeemable anytime they desire!

Poetry Corner: Compose heartfelt poems expressing your deepest emotions and read them aloud during intimate moments together.

Message Wall Art: Use removable wall decals to write romantic quotes directly on walls as unexpected surprises for your loved one to discover at home.
10.Scented Stationery: Enhance the experience by using scented paper or spraying perfume on the letter before sending it off—a delightful sensorial touch.
Remember, the key to writing love notes and letters is to be sincere and personal. Let your emotions flow freely as you express your love in words. These thoughtful gestures will surely warm their heart and create beautiful memories for both of you.
Spontaneous Acts of Romance
Looking to add some excitement and surprise to your Valentine's Day celebration? Nothing beats the thrill of spontaneous acts of romance. Here are some ideas to spark that sense of adventure and create unforgettable memories:
Love Notes: Leave little love notes in unexpected places – a lunchbox, wallet, or hidden in their favorite book.
Surprise Date Night: Plan a surprise date night without giving away any details. Pick them up and take them somewhere special.
Breakfast in Bed: Start their day off right with a delicious breakfast served right in bed.
Hidden Surprise Gift: Hide a small gift somewhere they'll find it during the day – like inside their shoe or tucked into their bag.
Spontaneous Picnic: Pack a picnic basket with all their favorite treats and whisk them away for an impromptu picnic under the stars.
Romantic Scavenger Hunt: Create clues leading them on an adventure around town, ultimately leading to a romantic surprise destination.
Midnight Stargazing: Take advantage of clear skies by surprising your partner with an unplanned stargazing session late at night.
Unexpected Love Texts: Send random messages throughout the day expressing your love and appreciation for them.
| 9 | Dance Like Nobody's Watching | Put on some music at home or head out to a local dance class together for an impromptu dance session full of laughter and fun. |
| --- | --- | --- |
10.Road Trip Adventure: Surprise your loved one with a spontaneous road trip, exploring new places together.
11.Random Act of Kindness: Perform small acts of kindness throughout the day – hold doors open, help carry groceries, or leave flowers for strangers.
12.Secret Admirer Gifts: Send anonymous gifts throughout the day, teasing them with hints about your identity.
13.Love Letter and Song: Write a heartfelt love letter and serenade them with their favorite song.
14.Recreate Your First Date: Surprise your partner by recreating your first date, reliving those special memories together.
15.Unexpected Sweet Treats: Bring home their favorite dessert or surprise them with chocolates when they least expect it.
16.Adventure Day: Plan an adventurous day filled with activities like hiking, kayaking, or trying something new that you both enjoy.
Romantic Movie Night: Set up a cozy movie night at home complete with their favorite snacks and romantic films.

Random Getaway: Book a last-minute weekend getaway to a nearby destination for some quality time away from the daily routine.

Spontaneous Love Declaration: Declare your love in an unexpected way – write it on their mirror using lipstick or leave notes in public places for them to find throughout the day.

Capture Memories: Take spontaneous photos of each other during the day to create lasting memories of this special Valentine's Day.
Remember, spontaneity is key when it comes to creating magical moments on Valentine's Day. Let these ideas inspire you to surprise and delight your loved one!
Conclusion
In conclusion, Valentine's Day is the perfect opportunity to show your loved one how much they mean to you. With these 20 romantic ideas for him or her, you can create a memorable and heartfelt celebration that will strengthen your bond and create lasting memories.
From planning a surprise date night at home with their favorite meal to writing a heartfelt love letter expressing your feelings, there are endless possibilities to make this day truly special. Remember, it's not about grand gestures or expensive gifts; it's about the thought and effort you put into making them feel loved and appreciated.
So don't wait until the last minute – start planning early and let your creativity shine! Whether it's a simple gesture like breakfast in bed or an adventurous outdoor activity together, what matters most is the time spent together and the love shared between both of you.
This Valentine's Day, take this opportunity to cherish each other and celebrate your unique connection. With these romantic ideas as inspiration, go ahead and make this day unforgettable for both of you. Happy Valentine's Day!